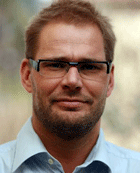 Mikael Höglind (1968–) växte upp i Uddevalla. Han avslutade gymnasiet 1988 efter 3,5 år på naturvetenskaplig och teknisk linje. Mikael Höglind arbetade därefter inom säkerhetsbranschen som väktare, med värdetransporter och personskydd åren 1988–1996.
Mikael startade 1992 sitt eget bolag Vivestra Brandskydd AB parallellt med de övriga uppdragen. Mikael var även hälftenägare i brandskyddsbolaget Secunova AB och helägare i fastighetsbolaget Alwico AB. År 2019 sålde han allt innehav i bolagen Vivestra och Secunova till NOHA Sweden, där han var teknisk chef tom juli 2022.
Mikael Höglind har två söner tillsammans med sin fru Kristina.
År 2011 startade Höglind tre bloggar och en modersajt för att publicera sina tankar inom tre kärnområden: barnens rättigheter i samhället, Mellanösterndebatten samt miljön och hälsa.
Mikael tog åter upp sitt politiska arbete 2021.
---
About Mikael Höglind
Michael Höglind (1968 -) is known from Uddevalla political life where he was chairman of the Child and Education Committee until summer 2009. Höglind's party affiliation is for theChristian Democrats. Michael Höglind was born August 6, 1968 and grew up in Uddevalla. In 1988 he graduated from high school where he studied natural sciences and engineering.
Michael Höglind can be described as a person with a sharp intellect and a problem solution mind set. He is engaged in several areas which are reflected in his blogs.
His fields of interest are: Israel in the Middle East debate, children's rights in society, health and environment.
After he graduated from high school he worked in the security industry with surveillance, as a personal security guard and wih armored transport services 1988–1996.
Höglind started in 1992 his own company Vivestra Fire Protection Ltd in parallel with the political missions. Michael is also half owner of the security company Secunova Ltd and sole owner of Alwico Ltd.
Today Mikael Höglind has a family including two sons and his wife Christina. He runs the company Vivestra with 14 employees. From June 2009, Michael Höglind focus mainly on Vivestra.